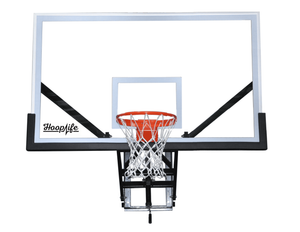 Hooplife® Wall-Mount Basketball Goal with 72" Backboard
Hooplife® HL72 Wall-Mount Adjustable Basketball Hoop features a 72- inch glass basketball backboard, a standard static rim, and a 3-foot extension from the wall to the front of the backboard. With a simple turn of the height adjustment handle, the patented external Height Adjustment Mechanism easily adjusts the height of the basketball hoop from 7′ to 10′. With its rugged structural steel construction, the HL72 Wall Mount Basketball Goal is perfect for anyone looking for a wall-mounted basketball system with the durability, rigidity, and play of an in-ground basketball goal. Workout at home like the pros! Product weight: 285 Lbs
This basketball hoop is made from the finest materials, created to withstand challenging play. It can be installed inside or outside, depending on where you have space. It also has a hideaway net attachment, and a spring-reinforced rim that will snap into place after a lot of pressure is placed on it. Other features include a:
72-Inch Shatterproof Glass Backboard.
3-Foot Extension From The Wall To The Front Of The Backboard.
Standard Static Rim.
Structural Steel Construction.